About Quercus
Quercus hand-craft their range of oak fencing and products at their workshop in Somerset, UK using the highest quality sustainable English sourced oak.
As the oak contains its own tannins, the wood is self-preserved and the products require no further maintenance once they are installed and will age naturally to a stunning silver as they mature.
Quercus' beautifully designed product range includes oak fencing, gates, planters, trellis and obelisks, and all can be custom-made to a variety of sizes for your specific requirements.
The patented weave design of Quercus products is not just an aesthetic feature; it also means the products are more durable as the weave enables air to move freely, offering less resistance and so reducing the likelihood of damage from winds.
We hold stock of 2ft, 3ft, 4ft ,5ft & 6ft panels which are 609mm, 914mm, 1219mm, 1524mm & 1828mm High & all 6ft Wide (1828mm).
We can also manufacture bespoke panels up to 2000mm High & 2000mm Wide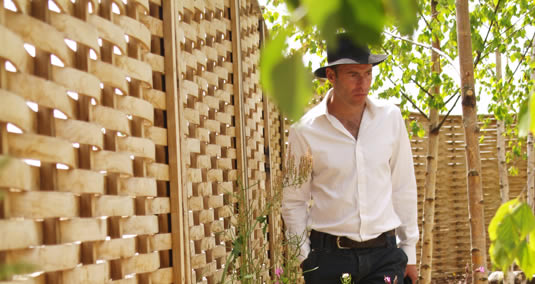 Who we are
Quercus is a family-run business based on the Somerset Levels where the company has been making fencing and other oak garden products from locally sourced timber since 2004.
Adam Poynton first designed these fence panels for his own garden, which he wanted to be hard wearing and maintenance free, but also a beautiful design addition to the garden.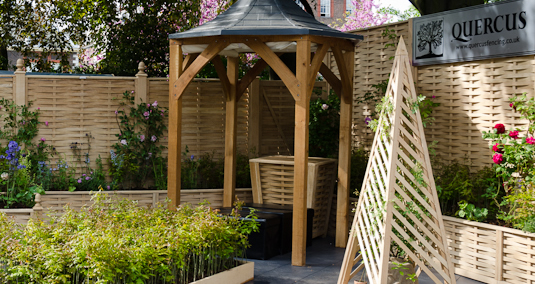 What we are doing
Quercus are exporting their products all over the world and have built a reputation for quality and craftsmanship. Lisa Poynton, Partner & Sales Manager, prides herself on customer care.
The newest member to join the family business is Joss – Adam and Lisa's son – who has a metalwork shop and will soon be offering gate furniture and post supports.
Our Clients
Our clients are wide and varied; each being very pleased with the quality and design of our products. Our clients are mainly:
- Home owners
- Garden and Landscape Designers
- Commercial Developers
- Garden Retailers
- Local Government
- Event and Show Designers
- Architects & Landscape Architects
- Theme Parks
- Historic Houses & Gardens
Did You Know?
We at Quercus are strong supporters of the certification processes in place to protect & manage ALL of our precious forests throughout the world, and also to safeguard the human rights, social and working conditions of the people who live and work in these forests.